Campsite in Hungary
Ave Natura Camping in the green belt of Budapest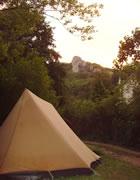 'Ave Natura' Camping is situated at the green fringes of Budapest, offering you fresh air and hospitality. Small, family-friendly campsite. From the Camping you have fast and easy public transport access to the centre. Secure area, shady and sunnier pitches. Shops and restaurants within 2 km; chemical toilet; washing machine; covered terrace; cooking area for the preparation of hot dishes; free WI-FI. We can arrange Sight-Seeing Tours for you.
Full Details & Contact Information
Arena Camping in the heart of Budapest


The cheapest camping in the centre of Budapest! Arena Camping - Budapest situated in the heart of Budapest in a truly idyllic setting, surrounded by a stream, in a wonderful green, clean and quiet environment where we welcome our guests all year around. Arena Camping - Budapest is the best base to explore the sights of Budapest for tent and caravan campers. The campsite is ideally located for Formula 1 and 'Sziget' Festivals visitors.
Full Details & Contact Information
Zugligeti Niche Camping


Easy to reach, hard to forget. Address and GPS Coordinates 1121 Budapest-Hungary, Zugligeti út 101 N 47°30' 55, E 18°58' 20 Zugligeti Niche Camping, the campground closest to Buda city centre is situated 5 km from the centre of Budapest surrounded by a pleasant green forested environment, and is easy to reach from the city and abroad. From the motorways: M0, M1, M5, M7 crossing Budakeszi (Map) From the city via Moszkva tér (Moscow Square)
Full Details & Contact Information
Camping Haller, Budapest


Camping Haller is located in a silent park in the heart of Budapest. The downtown, the Buda castle, the famous museums and the pleasure-grounds at the side of the Danube can be reached in a few minutes only due to the connection by direct metropolitan tram and underground lines. The price includes use of cold-hot shower, hair dryer, washing machine, electricity, Wi-Fi Internet, parking and bicycle storage. Stay here 3 nights! + 1 night is free!
Full Details & Contact Information
Pap sziget Camping and Bungalow park


Camping Pap-Sziget at Szentendre is an excellent destination for families and groups, and for excursions to Budapest, Szentendre, Visegrád and Esztergom. We have bungalows with comfort and 120 places for caravans and tents. The Pap-Sziget Camping can be approached from the road crossing Szentendre numbered 11. The island is to the north from the inner city. There is a wooden bridge crossing the Danube right across the entrance of the Camping.
Full Details & Contact Information